Confidence to Explore: In this series, Shipley alumni show how the confidence they gained from their Shipley education didn't end on graduation day. In this post, Maddie Norris '12 explains how her experiences with Shipley's French program and The Brain Tree School led her to Uganda and France.
French Firsts
My first ever experience abroad was with the Shipley trip to France in my junior year. I showed up in Villefranche practically wilting from jet-lag and clutching my freshly cracked passport like it was a teddy bear. Although I was absolutely terrified to be alone with any French speakers, my fear slowly abated as I was greeted by an incredibly welcoming host family. Throughout the week, I grew more confident in my French skills and quickly learned that even if I was not fluent, I could express myself.
The most important thing I learned from that trip was that I was not afraid to push outside my comfort area and try— a skill I believe came from my Shipley education. Throughout my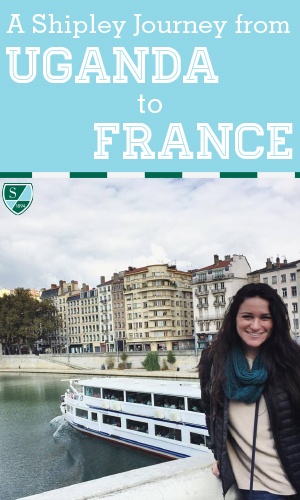 seven years at Shipley, I competed in four different sports, sang (poorly) in three musicals, delivered two very public speeches, and made one not so impressive sculpture.
While making bad art and showing off my lackluster singing voice is not normally something to celebrate, I am proud of those accomplishments. My Shipley education taught me to appreciate the special bravery required to put yourself in uncomfortable circumstances. Shipley provided a space to explore my interests and make mistakes in a safe way.
Brain Tree and Uganda
Shipley's lessons were a large part of the reason I had the courage to live with a host family for a semester of college in Kampala, Uganda. Shipley actually influenced my decision to choose Uganda even more directly through its connection with The Brain Tree Primary School, located just outside of Kampala.
I distinctly remember Robbie Schaefer from Siruis XM showing videos he took of Brain Tree at a Middle School assembly. Seeing Robbie both on the stage of Riely Theatre and in the video set at Brain Tree allowed my thirteen-year-old mind to imagine myself in that community as well. In that instant, a large cultural barrier became surmountable.
I was able to visit the Brain Tree School on multiple occasions during my semester abroad, and each time, a part of me felt like I was back at home. I walked into the Brain Tree library that Shipley helped fund and within seconds, my eyes landed on a picture of my grade on the wall. Seeing my classmates' photos on the wall of this Ugandan primary school thousands of miles from home struck me in a profound way. That Shipley connection with Brain Tree had truly built this library, giving the three hundred Brain Tree students the opportunity to fall in love with books.
Continued Travels
The legacy of the confidence I gained from the Shipley trip to France gave me the courage to move abroad before starting medical school and to not rule out non-English speaking countries. I trusted that even if I made a fool of myself at first, I would learn from the challenge and eventually succeed. The rewards that came from such challenges have enriched my life, and I would not have gained these experiences had I not been encouraged to explore at Shipley.
Ultimately, I decided to spend a year teaching in France and improving my French skills. Surprisingly enough, I was placed in a city called Roanne, a mere forty minutes from my adoptive French home of Villefranche. It seems that no matter where I go, Shipley is a part of my home.