With the completion of Shipley's Learning and Research Center (also known as "The LARC"), the opportunity arose to sift through the library's book collection. In this week's post, librarian and English teacher Kate Gearhart takes us through the history of some of the things she found left behind in the library.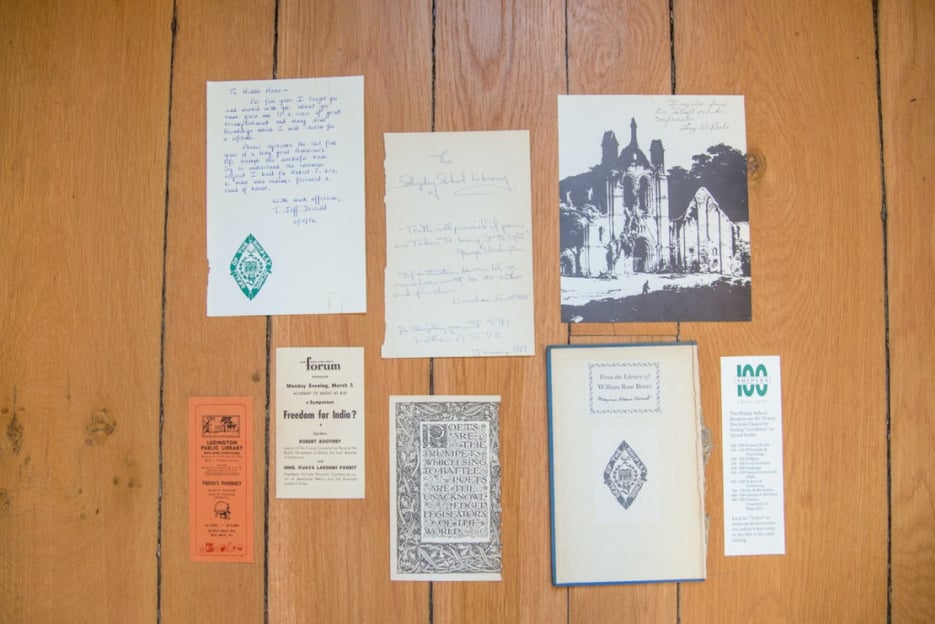 In the upper left-hand corner of this photo, there's a letter written to "Middle House," which no longer exists on Shipley's campus. The building was on Shipley's Lower Campus near Beechwood and Howland House and was for students in Grades 4-7.
There was a librarian here that I've come to call Librarian 51. When a new book comes into the library, you stamp it in a couple of different places. In the old days, you would stamp the School name somewhere within the book, and she would always do it on page 51. So this is one of hers!
Elsie Lowrey worked at Shipley from 1910 to 1945, beginning as Resident Supervisor of Pupils and going on to become Shipley's Associate Headmistress. The Upper School's Lowrey Room is named in her honor. This reads: The Shipley School | Fiftieth Anniversary | 1894-1944 | Gift of Elsie Lowrey
Emma Bailey Speer was the mother Margaret Bailey Speer, Shipley's Headmistress from 1944-1965. Shipley's Speer Gallery, Speer Library, and Speer Wing are all named in her honor. These two pages both read: Emma Bailey Speer | Christmas 1907 | From L.O.
This reads: From the Library of William Rose Benét | Marjorie Flack Benét
There are so many beautiful bookplates like these you can find inside covers. Mentioned in this bookplate, Helen J. Robins set the standard for the English curriculum at Shipley and elsewhere as author of the textbook generally used in preparing students for Bryn Mawr. She came to the school in 1898, with a BA and graduate study at Bryn Mawr College and experience as a teacher of English and history. In 1928, after 30 years at the school, she retired to her beloved Siena, Italy. No doubt, she was formidable, but then, as now, warm relationships were key. From Siena, she wrote to the Alumnae (yes, that's right for the period) Association: "So I am proud and happy to belong to your Association. I hope you will meet often in Siena… Then we may talk over our happy times together."
In some of the plant guides and birdwatching books, you can find different species checked off. This was done by George Wrangham, a former teacher at Shipley. He used to take the books outside and see what he could find on campus.
George Wrangham, our "resident naturalist," would press flowers in nature books like these.
This I love just from a total nerd point of view. Before we could go online and use things like NoodleTools, you would have to follow a guide like this, which has your sample footnotes, your typing instructions, everything.
A fun fact about Shipley is that the School is mentioned in J.D. Salinger's classic novel, "The Catcher in the Rye," since the author's second wife, Claire, went to school here. This book, donated by Claire's father, reads: Miss Margaret Bailey Speer | With best wishes from R. Langton Douglas | Father of Claire Douglas Salinger '50
A note on Shipley's Honor Code
This reads: To the Library of the Misses Shipleys' School from the Class of 1913
This note written by two students back when Shipley was a boarding school reads: Dear Peggy, I'm giving you the whole weekend to come visit me. I have tea (God, what am I saying!) and if you don't come sometime when I'm home, I'll consider it a personal offense! I'll be signing off now, so drop me a line. Me | Dear Margo, I was very thrilled with your letter to me. Thank you very much! (Illegible) I came to your room. You're out – but I really I'll come soon. Wow. (Illegible). Be good. With love, Peggy
This reads: The Shipley School Library | "If Destruction be Our Lot, We Ourselves will Be Its Author and Finisher." Lincoln – Jan. 27 1868 | Gift of Mrs. (Illegible) Bayer | With great appreciation | Shipley 1941 | Parent of 1970 | August 1968
This is actually one side of an old postcard sent out by Admissions years ago.
Back in the 60s, we had many of our books rebound in these bright, very "mod" covers. This is the order receipt from one of them.
This copy of "The Ides of March" has one of the "mod" 60s covers.
This I just thought was too beautiful to throw away. But on top of that, with books like these, you can learn about the library and see what was being studied at the School.